Cylinder

Seahorses (left) & Designed (right).
Cylinder grew out of a desire to create truly complex objects which hint at the overwhelming detail present in nature. Working with Drew Allan we wished to create algorhythmically generated works which would be rapid prototyped using techniques capable of sculpting extremely complex objects.
However, instead of using code to generate complexity we turned our attention to capturing natural complexity. Taking sound frequencies within the range of human hearing over a short period of time we rendered them in a tangible and permanent manner, as sculptures representing a sample of time.
The software created for this purpose allows variations in resolution (both in time and frequency) and outputs an STL file which can be sent for rapid prototyping.
In addition to caputuring music we took sound samples from spaces, creating site specific sculptures reflecting the acoustic of an environment.
In 2004, 8 sculptures were produced and subsequently exhibited in the Biennale Internationale Design of Saint-Etienne, France, at Fabrica Features in Lisbon, Portugal, 2005 and at the Casino Luxembourg, Luxembourg in 2008.
The sculptures created were between 200 – 400mm tall.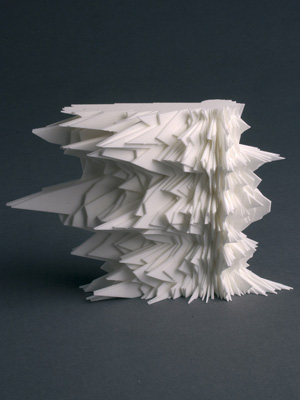 Market (left) & Breath (right).
Software
The software was built in Director using the asFFT xtra for sound analysis, the image below showing a voice input pattern.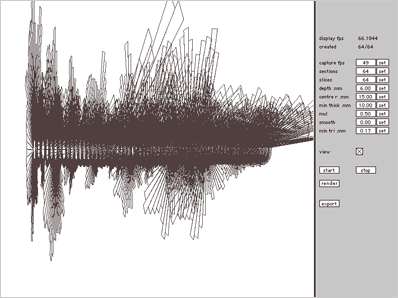 Click here to launch the demo software (opens in new window, requires Shockwave).
Back to the home page
–
Trackback